Welcome to use the Nexetic Shield Backup software! By following these instructions you will install the software on your Mac easily - it will just take a minute.
You have received an email with:
Download link for both PC and Mac version of the software
Your user id and one-time password
1. Start installation by clicking the download link for OS X
(https://shield.nexetic.com/installers/NexeticShield.dmg)
2. The installation file NexeticShield.dmg will be saved in your Downloads folder. Click it to start the installation.

3. A new window will open. Drag installation file Nexetic Shield to Applications folder.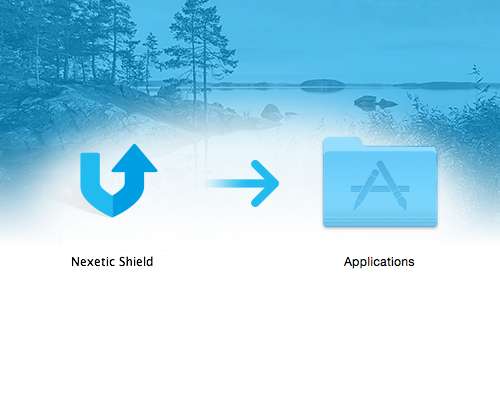 4. To enable installation, answer Open to data security questions such as "Are you sure you want to open this file".
5. Open Applications folder. Select Nexetic Shield from the list of applications by clicking it. Guided setup will now start.
6. You can move onto Setup, Mac instructions.